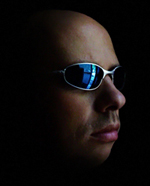 [Przejdź do wersji w języku polskim]
I am giving you my next aviation calendar. When choosing photos for it, I took into account both your votes on Facebook (thank you!) and my personal feelings. It wasn't easy, because 2023 was full of great sessions! For me, the most important photos are, of course, the "three-dimensional" ones, in which, apart from the obvious two dimensions, there is also a third one, which is the number of memories and experiences that accompanied me while taking photos. Additionally, I believe that the photos selected for the calendar must make the greatest impression possible, both from the wall and for the entire 30 days of a given month! Overall, the calendar must be diverse to satisfy the widest possible audience.
So in my Aviation Calendar 2024 you will find "three-dimensional", the most impressive, diverse - the best photos I took in 2023!
Below are descriptions of what is in the photos, under what circumstances the photos were taken and short explanations why I chose a particular photo and why for a given month.
 
COVER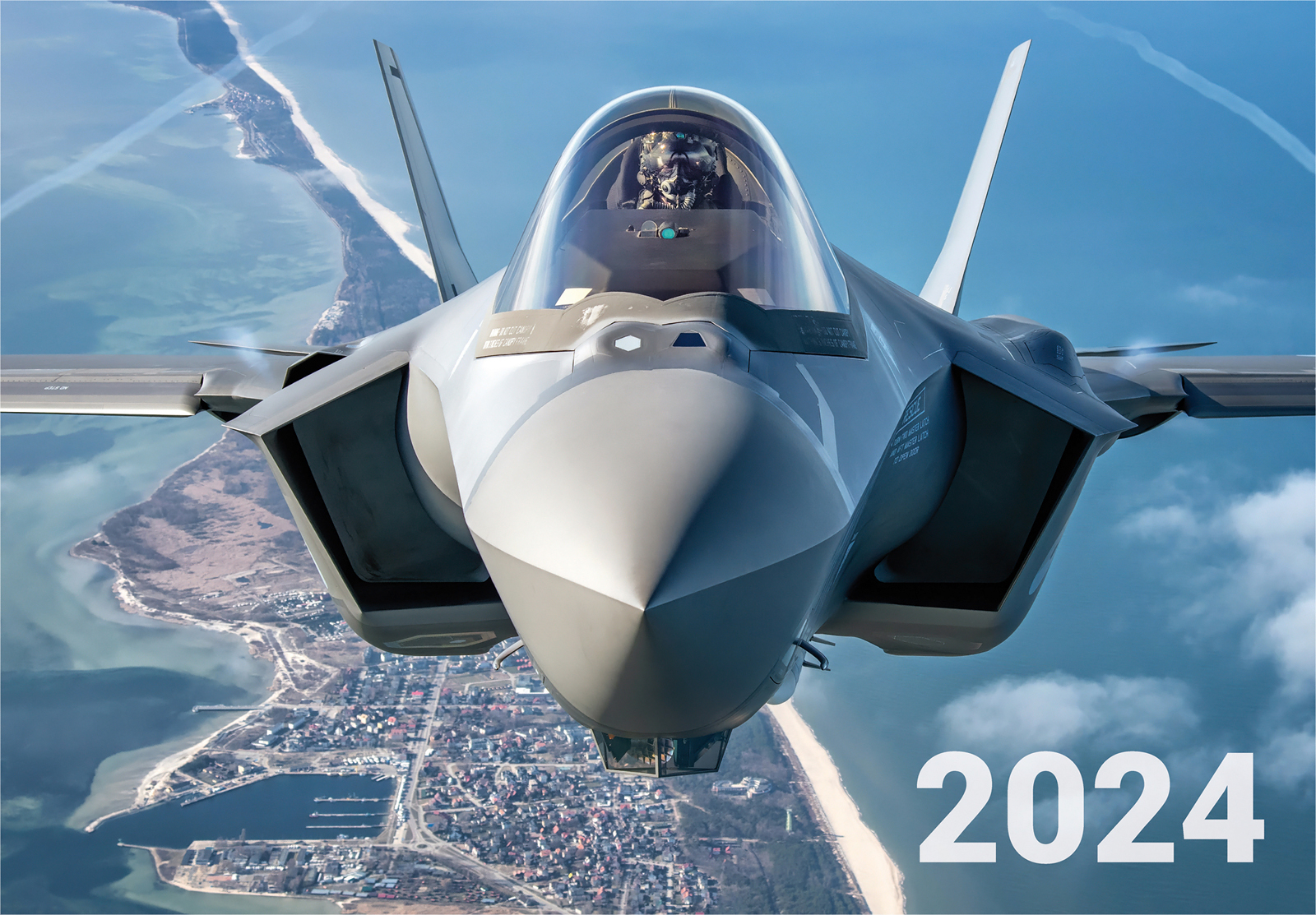 March 21st, 2023. Lockheed Martin F-35 Lightning II from the 322nd Squadron of the Royal Netherlands Air Force serving as part of the NATO Enhanced Air Policing mission operating from the 22nd Tactical Air Base in Malbork. Photographed from the deck of the CASA C-295M aircraft from the 8th Airlift Base in Krakow.
It was the first and immediately powerful air-to-air session in 2023 over the Hel Peninsula, the Bay of Gdańsk and Malbork. When taking this photo, I knew it would be perfect for a calendar cover. The F-35 pilot came very close. Additionally, both the light and the background with beautiful city of Jastarnia and the Baltic coast played perfectly.
Nikon D850. AF-S Nikkor 24-120 mm f/4G ED VR (1/1000 f/7.1 ISO 320).
More:
https://www.hesja.pl/galeria,915,f-35-rafale-f-16-mig-29.html
 
INFO PAGE

October 10th, 2023. A formation consisting of a pair of Mikoyan Gurevich MiG-29 Fulcrum aircraft from the 22nd Tactical Air Base in Malbork and a pair of Lockheed Martin F-16 Jastrząb aircraft from the 31st Tactical Air Base in Krzesiny, photographed from the deck of a CASA C-295M aircraft from the 8th Air Base Airlift in Krakow.
Another photo from a session that was not supposed to take place at all due to hopeless weather forecasts. Not only did it take place, but it also became one of the best! There are only 12 months in a year. In the "MiG-29" category, the photo with a break over Malbork won the vote from fans on Facebook. However, I couldn't help but include this photo in the calendar. One, that it's another photo with our beautiful Fulcrums, two, that they are accompanied by wonderful F-16s, three, that the pilots are super precise, and four, that amazing evening view.
Nikon D850. AF-S Nikkor 24-120 mm f/4G ED VR (1/1250 f/7.1 ISO 500).
More:
https://www.hesja.pl/galeria,948,f-35-mig-29-f-16-malbork.html
 
JANUARY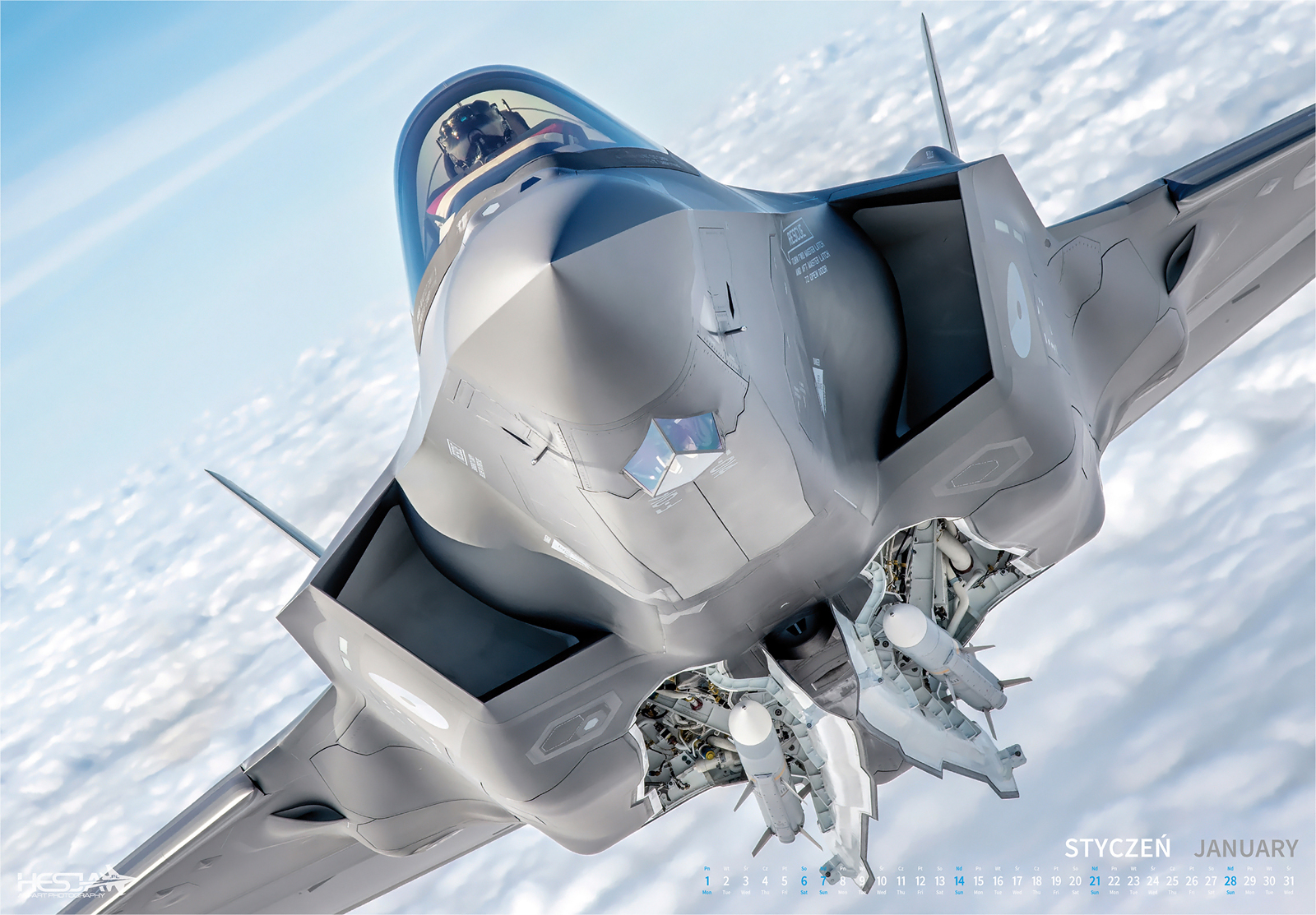 March 21st, 2023. Lockheed Martin F-35 Lightning II from the 322nd Squadron of the Royal Netherlands Air Force serving as part of the NATO Enhanced Air Policing mission operating from the 22nd Tactical Air Base in Malbork. Photographed from the deck of the CASA C-295M aircraft from the 8th Airlift Base in Krakow.
The F-35 pilot totally surprised us. Not only did it fly very close to our ramp, but it also opened the bays presenting AIM-120 AMRAAM live missiles. We didn't discuss this in the pre-flight briefing. The view absolutely surprised us and will remain in our memory for a long time. The cold tone of the photo perfectly matches the month of January in the calendar.
Nikon D850. AF-S Nikkor 24-120 mm f/4G ED VR (1/1000 f/6.3 ISO 180).
More:
https://www.hesja.pl/galeria,915,f-35-rafale-f-16-mig-29.html
 
FEBRUARY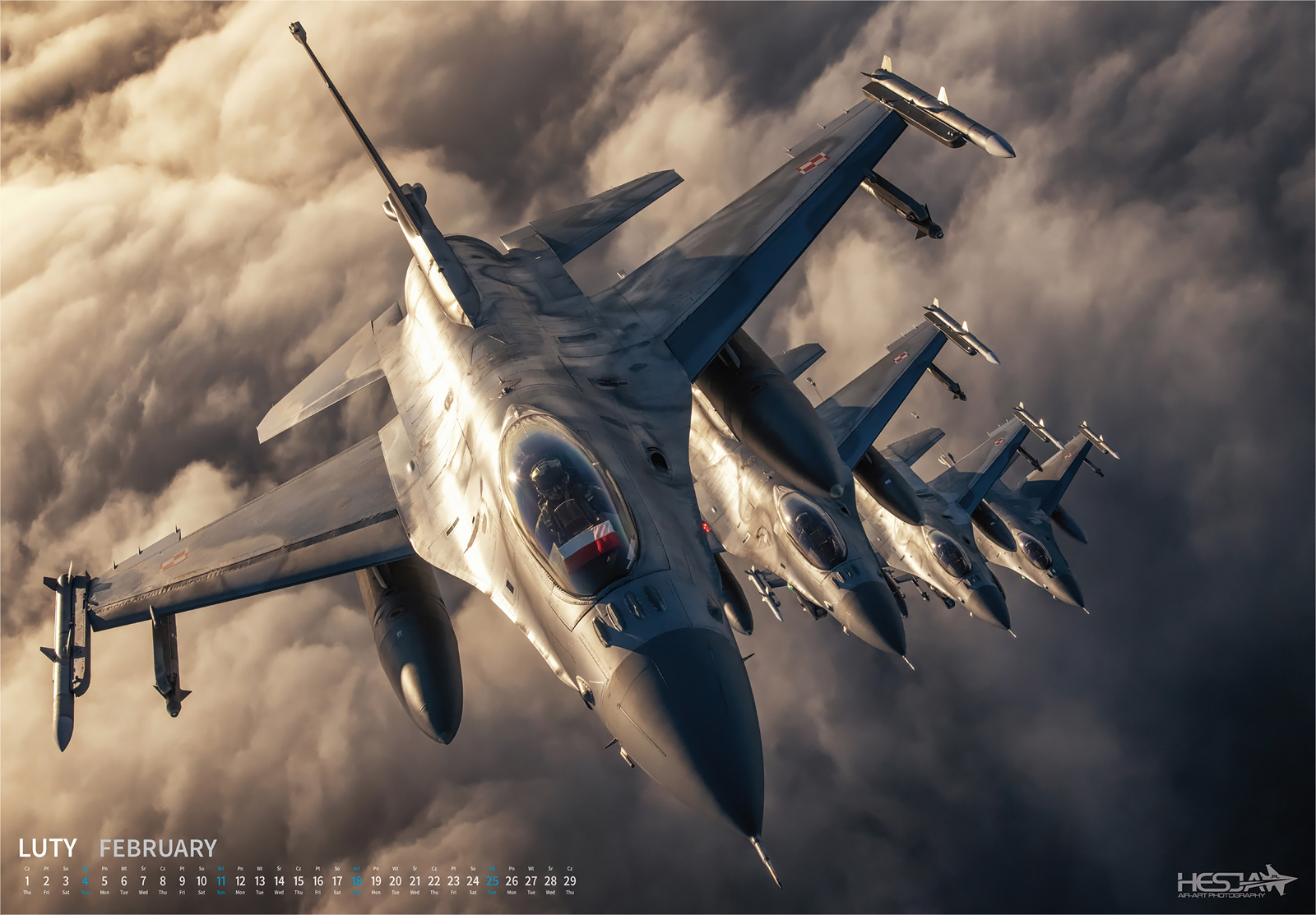 March 27th, 2023. Four Polish Lockheed Martin F-16 Jastrząb aircraft from the 32nd Tactical Air Base in Łask during NATO Baltic Air Policing over Lithuania, photographed from the deck of the CASA C-295M aircraft from the 8th Airlift Base in Krakow.
The session took place at the end of the mission of the Polish Military Contingent ORLIK 11, which from October 1st, 2022 to March 31st, 2023, guarded the Baltic sky, operating from the Lithuanian Air Force Air Base in Šiauliai. During the session, despite the warm tone of the photo itself, it was extremely cold. Perfect for the month of February on the calendar.
Nikon D850. AF-S Nikkor 24-120 mm f/4G ED VR (1/2500 f/11 ISO 800).
More:
https://www.hesja.pl/galeria,916,pkw-orlik-11-szawle.html
 
MARCH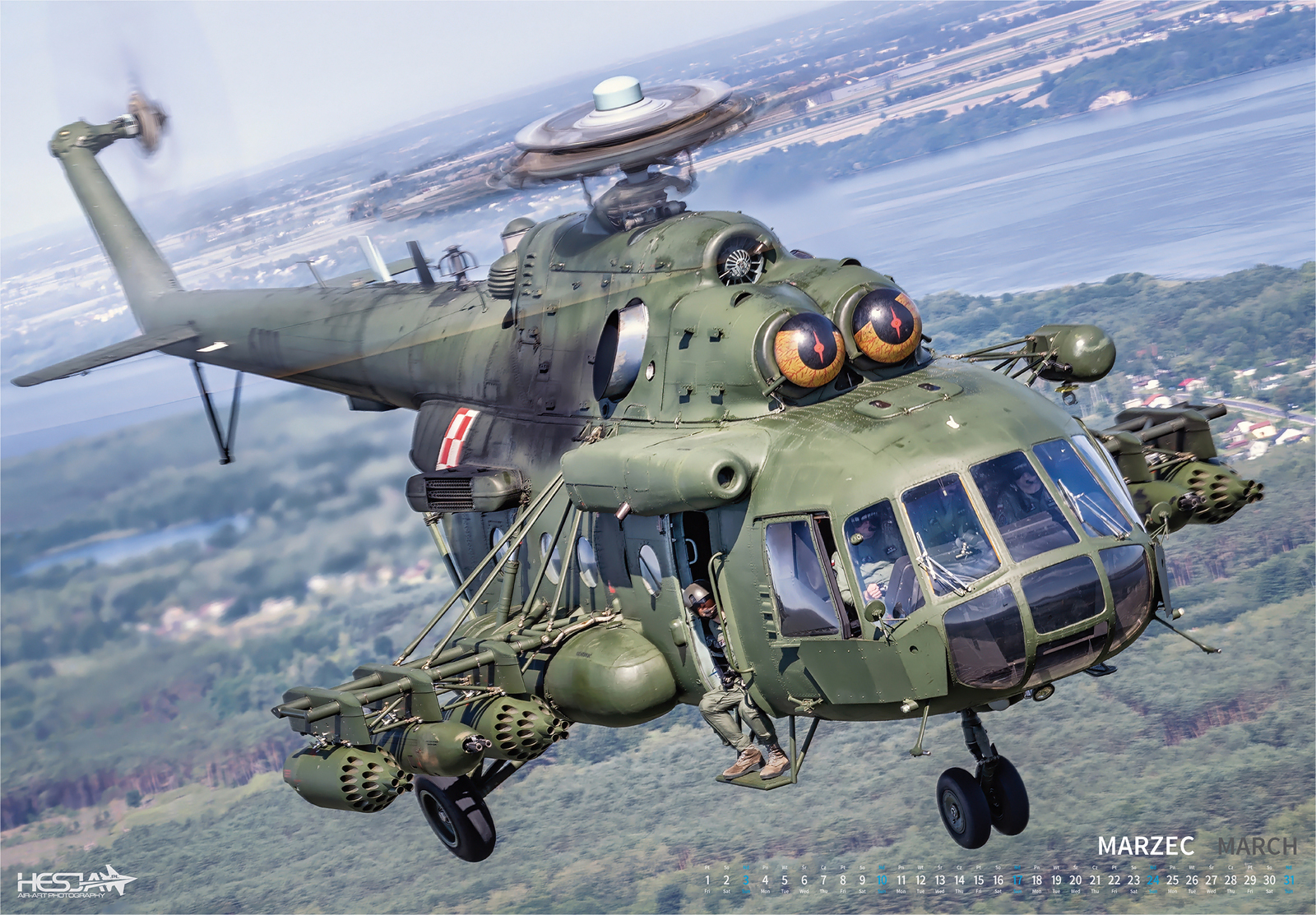 August 12, 2023. A Mil Mi-17-1V helicopter belonging to the Air Special Operations Unit during arrival at the World Helicopter Rally in Płock. Photographed from the deck of a Gippsaero GA-8TC-320 Airvan as part of Air-to-Air Meeting No. 25.
The combat appearance of the helicopter, the great atmosphere of the event and the fantastic crew who posed for our session that day prevented me from putting this photo in the calendar. This is the only photo with a helicopter in the calendar.
Nikon Z 9. Nikkor Z 100-400mm f/4.5-5.6 VR S (1/15 f/13 ISO 64).
More:
https://www.hesja.pl/galeria,940,atam-25.html
 
APRIL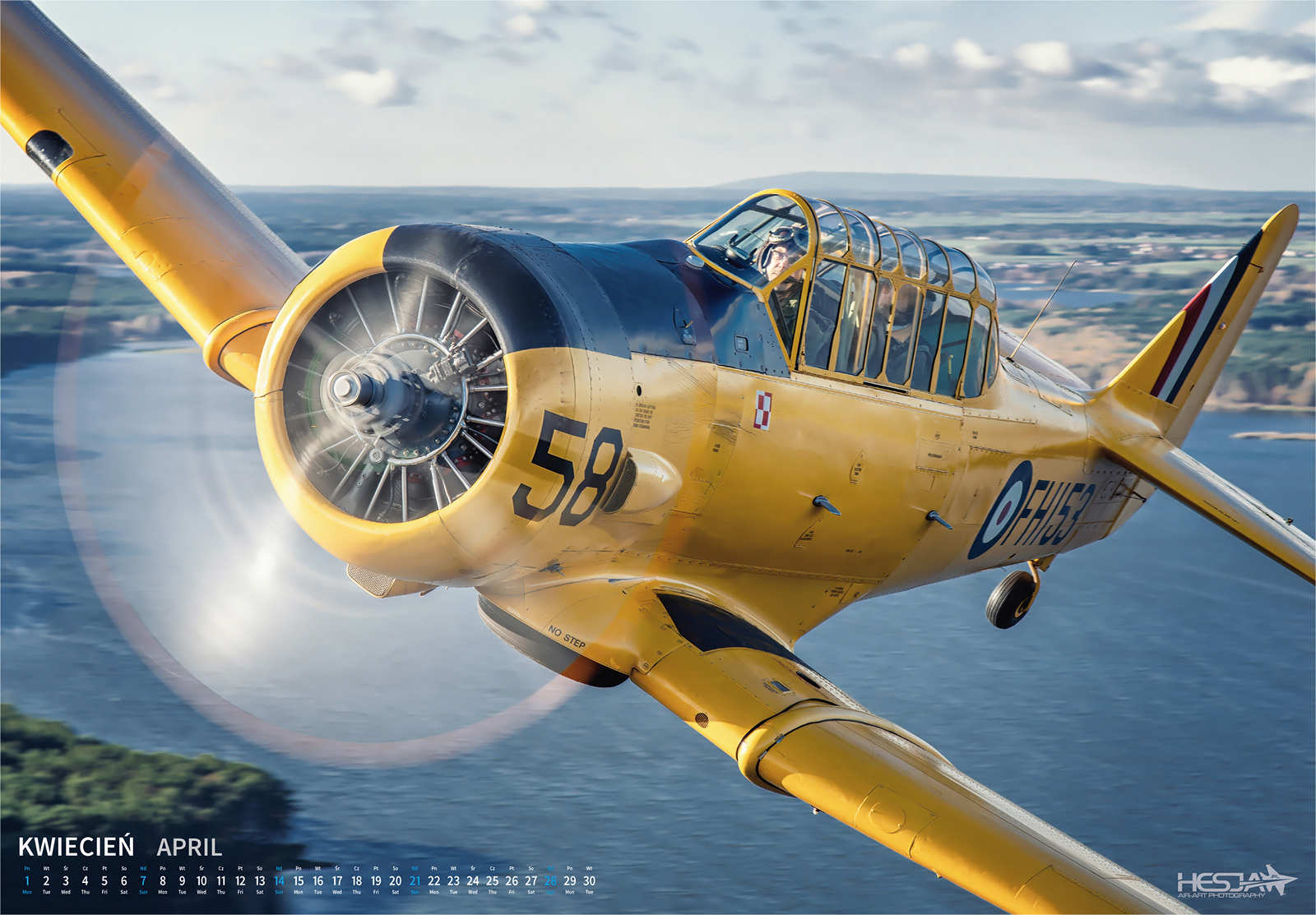 November 4th, 2023. The North American Harvard IIB aircraft piloted by Marcin Kubrak during Air-to-Air Meeting No. 27 at the Aeroklub Ziemi Piotrkowskiej, photographed over the Sulejowski Reservoir from the deck of the Short SC.7 Skyvan aircraft belonging to Sky Force Polish Parachute Center. Marcin Kubrak is a great man and aviator. Very committed to ATAM. It couldn't be missing in this year's edition of the calendar. Let Harvard represent all the "warbirds" I managed to photograph in 2023. The colors of the photo match spring April.
Nikon D850. AF-S Nikkor 24-120 mm f/4G ED VR (1/60 f/7.1 ISO 64).
More:
https://www.hesja.pl/galeria,947,atam-27.html
 
MAY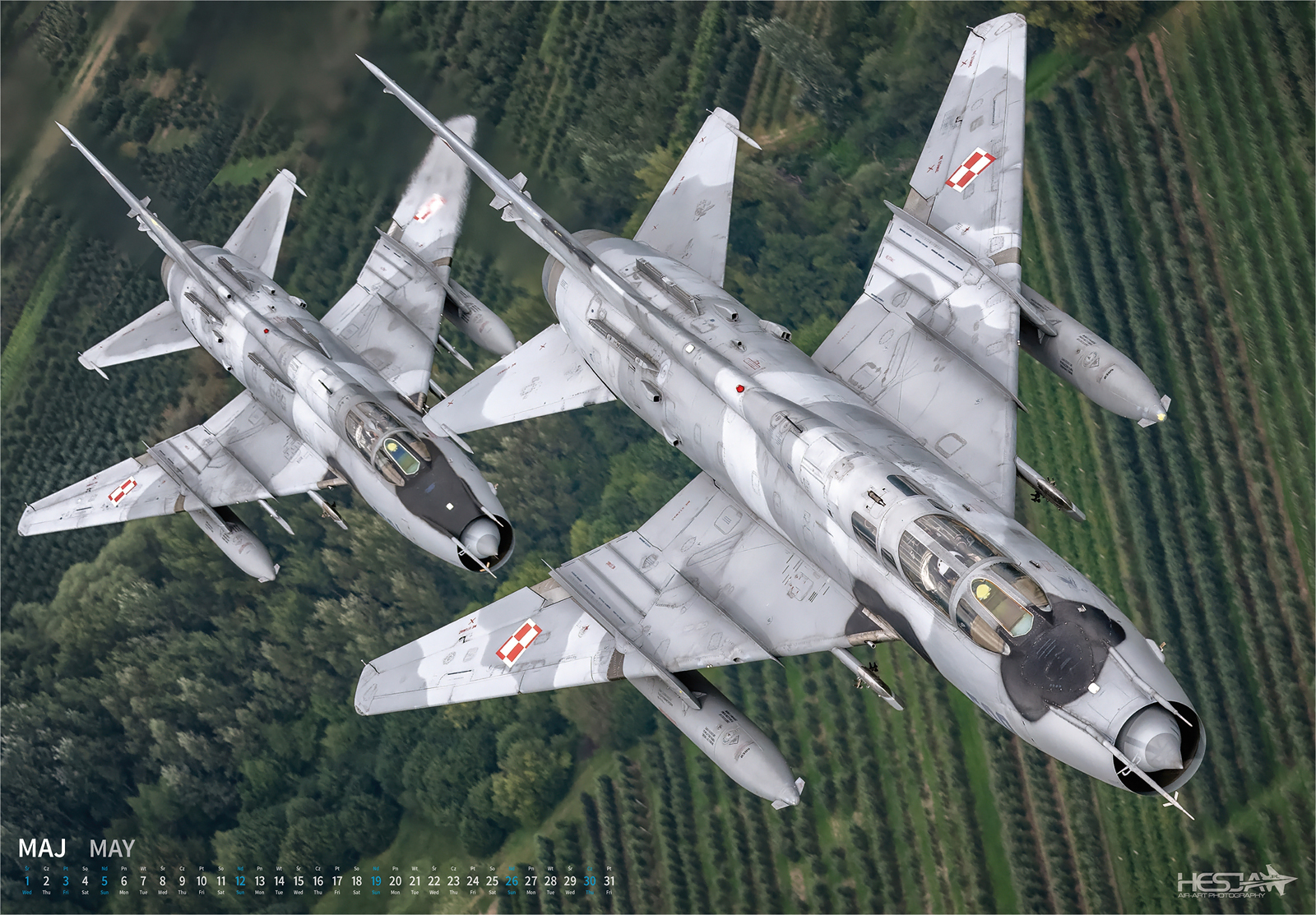 August 25th, 2023. Sukhoi Su-22 aircraft from the 21st Tactical Air Base in Świdwin photographed during Air-to-Air Meeting No. 26 before International AIR SHOW Radom 2023 from the deck of the Short SC.7 Skyvan aircraft belonging to Sky Force Polish Parachute Center.
The session was very dynamic. The difference in the speed of the "Fitters" compared to our photoship was over 100 knots. Only thanks to the exceptional skills of the pilots we managed to create unique material. Color-wise – definitely May. A bit cloudy :)
Nikon Z 9. Nikkor Z 100-400mm f/4.5-5.6 VR S (1/1600 f/6.3 ISO 800).
More:
https://www.hesja.pl/galeria,942,atam-26.html
 
JUNE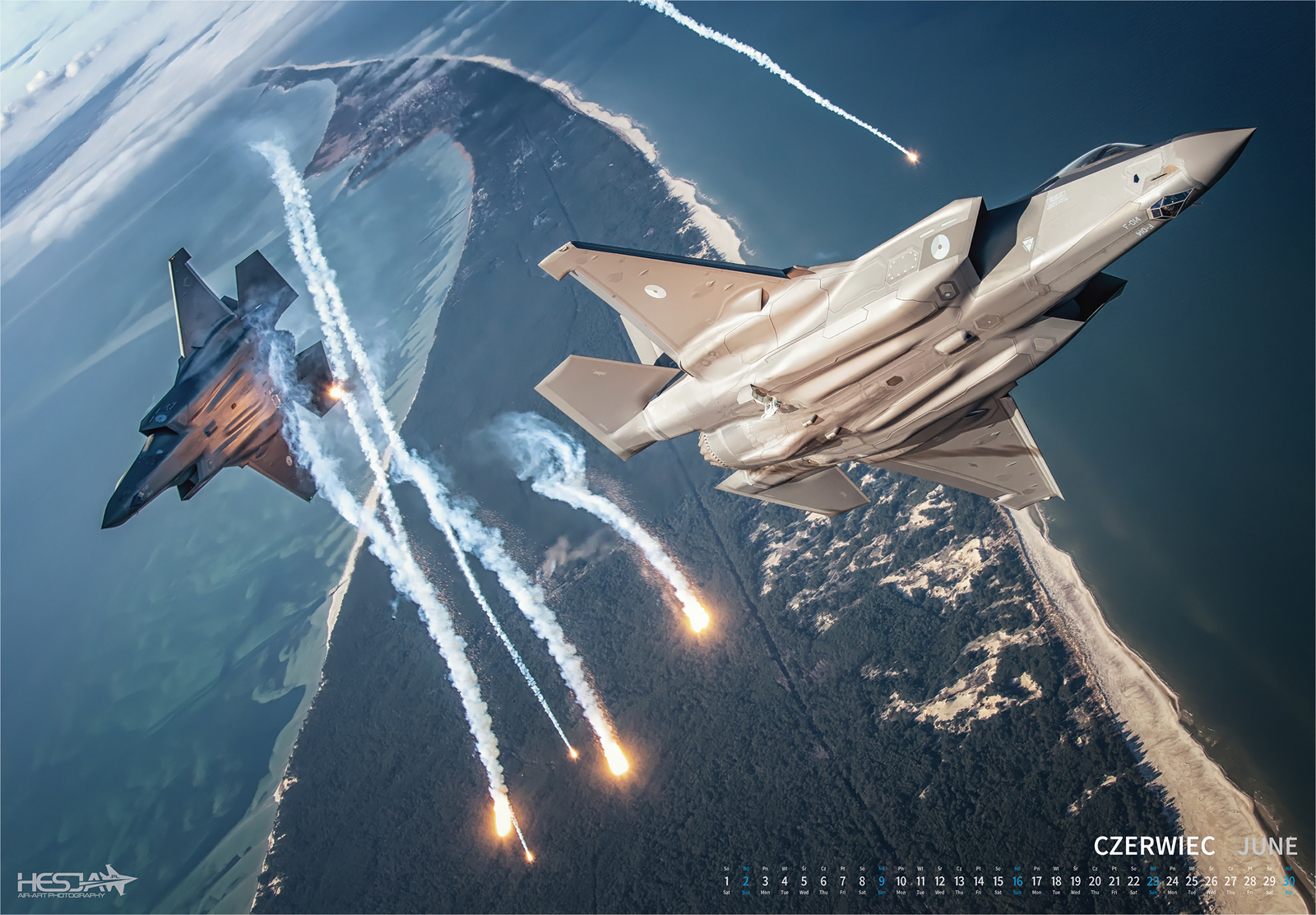 March 21st, 2023. Lockheed Martin F-35 Lightning II aircraft from the 322nd Squadron of the Royal Netherlands Air Force serving as part of the NATO Enhanced Air Policing mission, operating from the 22nd Tactical Air Base in Malbork. Photographed from the deck of the CASA C-295M aircraft from the 8th Transport Air Base in Krakow.
Dutch pilots were open to many of our ideas. Imagine my surprise and joy when, during the pre-flight briefing, I proposed conducting breaks combined with firing flares, and they said OK. Flares during a session are always a huge added value. Just like the session over the beautiful Hel Peninsula. This photo couldn't be missing from the calendar! Perfect for June and the beginning of school holidays.
Nikon D850. AF-S Nikkor 24-120 mm f/4G ED VR (1/1000 f/8 ISO 280).
More:
https://www.hesja.pl/galeria,915,f-35-rafale-f-16-mig-29.html
 
JULY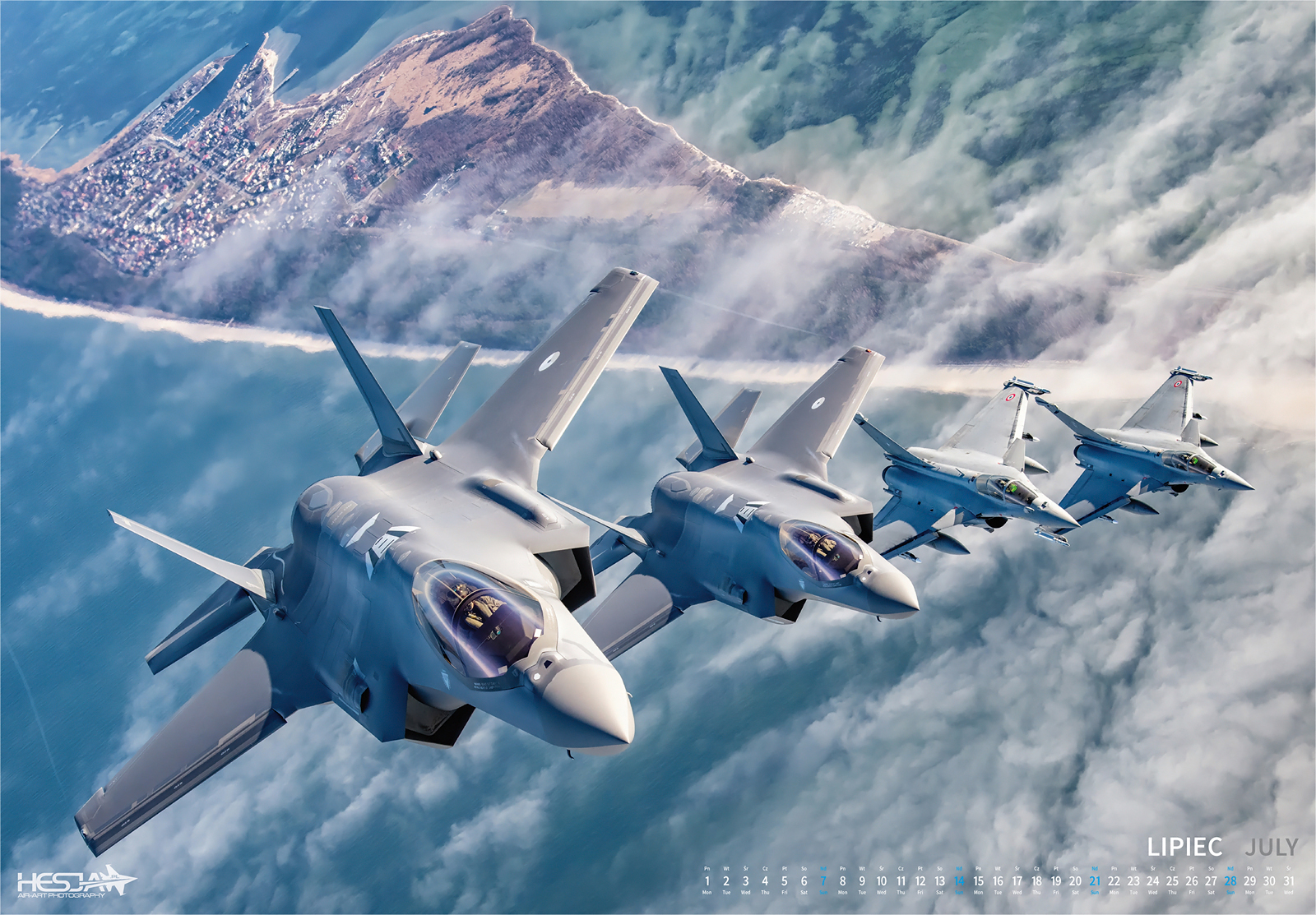 March 21st, 2023. Formation of a pair of Lockheed Martin F-35 Lightning II aircraft from the 322nd Squadron of the Royal Netherlands Air Force operating from the 22nd Tactical Air Base in Malbork and a pair of Dassault Rafale F-3R aircraft belonging to the 2/30 "Normandie Niémen" and 3/30 Fighter Squadrons "Lorraine" of the French Air Force operating from the Lithuanian Air Force Air Base in Šiauliai, serving jointly as part of the NATO Air Policing mission. Photographed from the deck of the CASA C-295M aircraft from the 8th Transport Air Base in Krakow.
The difficulty of this session was that we had to coordinate in time and space several types of aircraft operating from three different airbases. In this photo, the Hel Peninsula and city of Jastarnia again complement the beauty of this summer, but taken in March, image :)
Nikon D850. AF-S Nikkor 24-120 mm f/4G ED VR (1/1250 f/8 ISO 720).
More:
https://www.hesja.pl/galeria,915,f-35-rafale-f-16-mig-29.html
 
AUGUST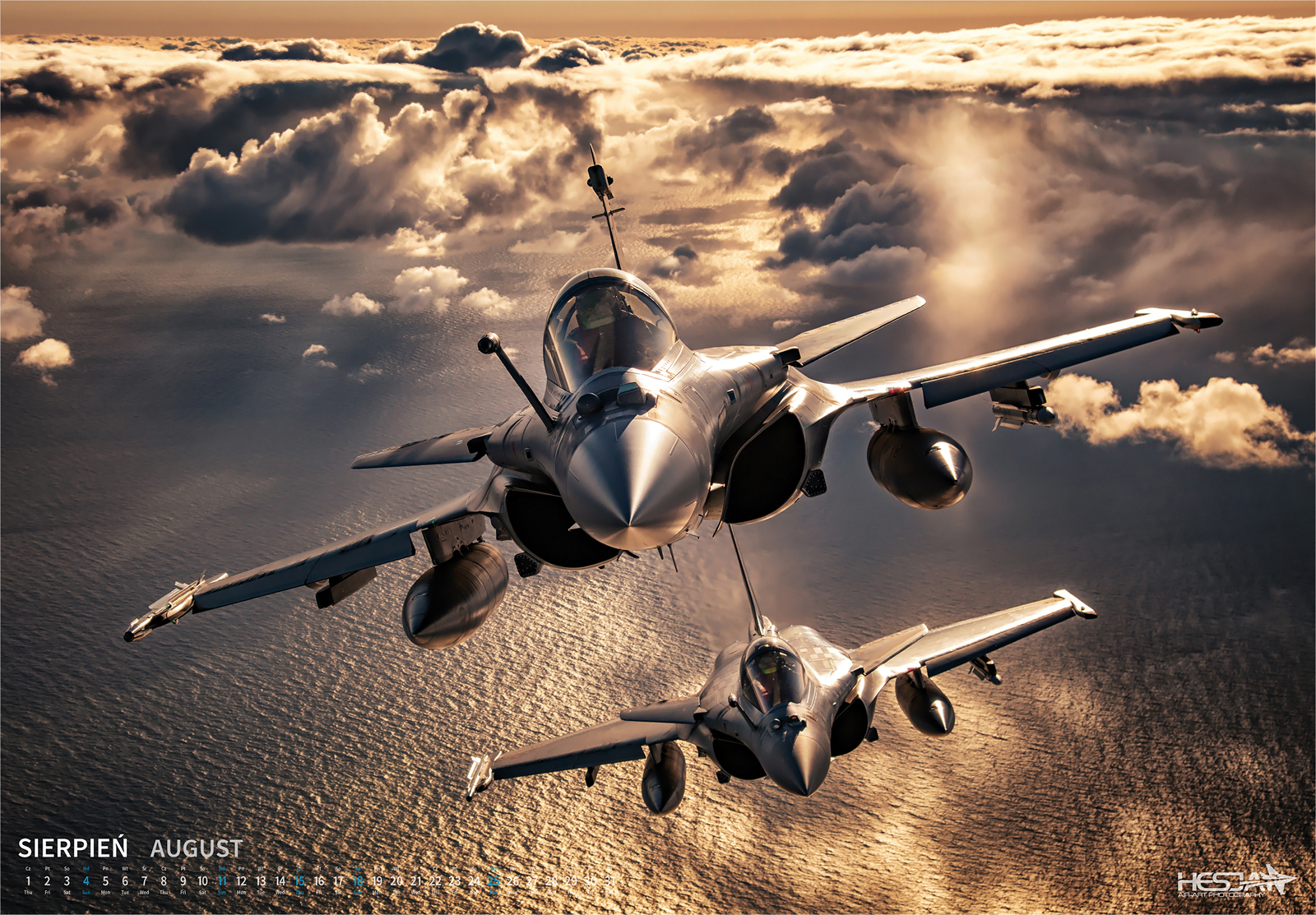 March 27th, 2023. Two Dassault Rafale F-3R aircraft belonging to Fighter Squadrons 2/30 "Normandie Niémen" and 3/30 "Lorraine" of the French Air Force operating from the Air Base of the Lithuanian Air Force in Šiauliai, serving as part of the NATO Baltic Air Policing mission, photographed from the plane CASA C-295M from the 8th Transport Aviation Base in Krakow.
Breaking through cloudy Lithuania towards the coast, we noticed a large window in the clouds near Klaipėda. While orbiting in this area, we witnessed the amazing effects of the sun's rays breaking through the jagged clouds. It was extremely cold, but in the photo it is a hot August! :)
Nikon D850. AF-S Nikkor 24-120 mm f/4G ED VR (1/2000 f/7.1 ISO 200).
More:
https://www.hesja.pl/galeria,916,pkw-orlik-11-szawle.html
 
SEPTEMBER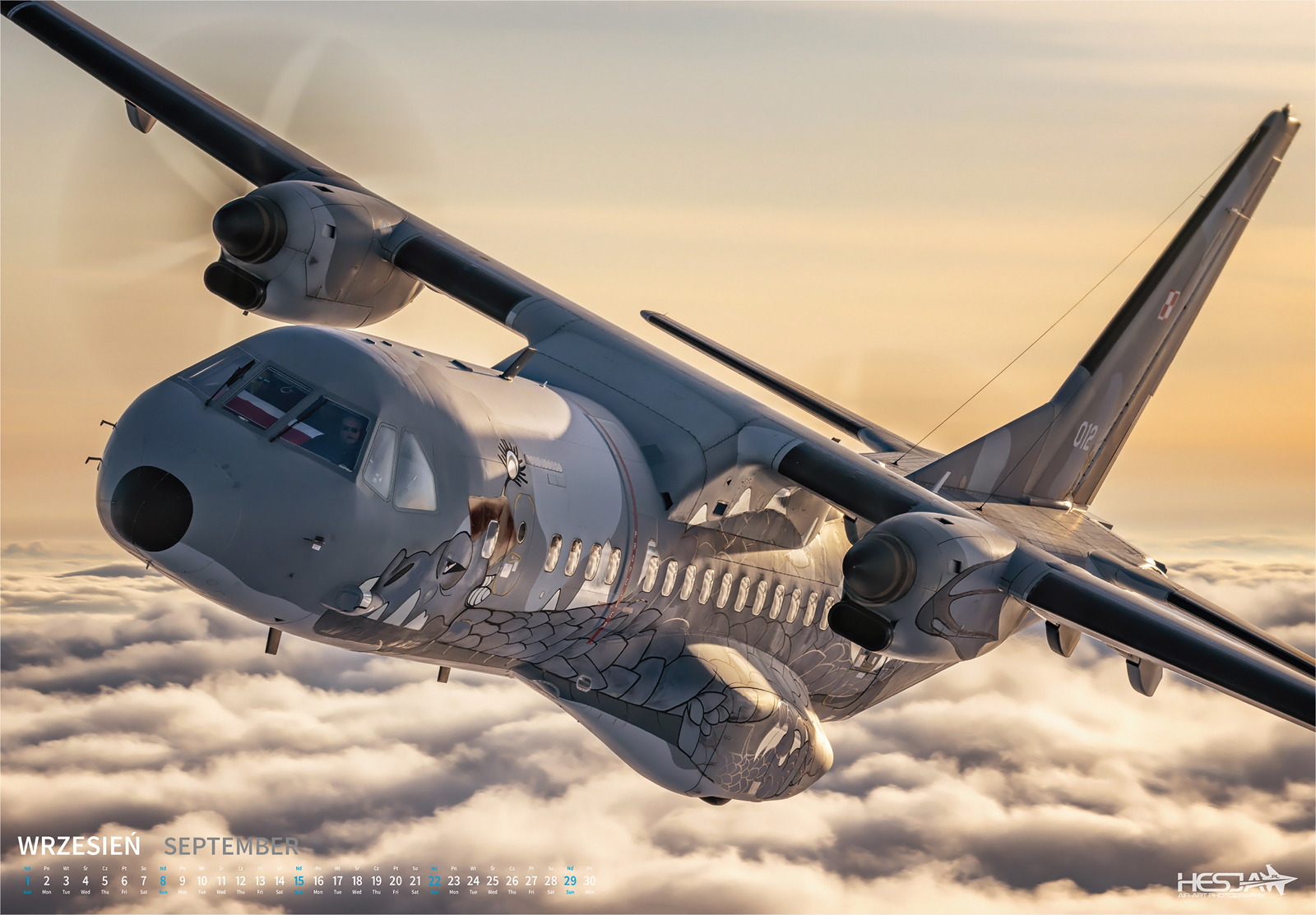 August 24th, 2023. CASA C-295M aircraft from the 8th Transport Aviation Base in Krakow photographed during Air-to-Air Meeting No. 26 before International AIR SHOW Radom 2023 from the deck of the Short SC.7 Skyvan aircraft belonging to Sky Force Polish Parachute Center.
While the sky above the airport in Radom was almost 100% covered with clouds, we decided to do the rest of the session that day above them. It was a great idea! The feeling of cold was compensated by the amazing view of clouds and sky bathed in warm afternoon sunlight. When Krakow's "Dragon" appeared on this stage, a real fairy tale ensued. The CASA C-295M aircraft from the 8th Base could not be missing from the calendar. Firstly, because it is an incredible photoship, and secondly, because thanks to the wonderful crews of these planes, so many sessions were possible. Thank you! :)
Nikon Z 9. Nikkor Z 100-400mm f/4.5-5.6 VR S (1/125 f/16 ISO 64).
More:
https://www.hesja.pl/galeria,942,atam-26.html
 
OCTOBER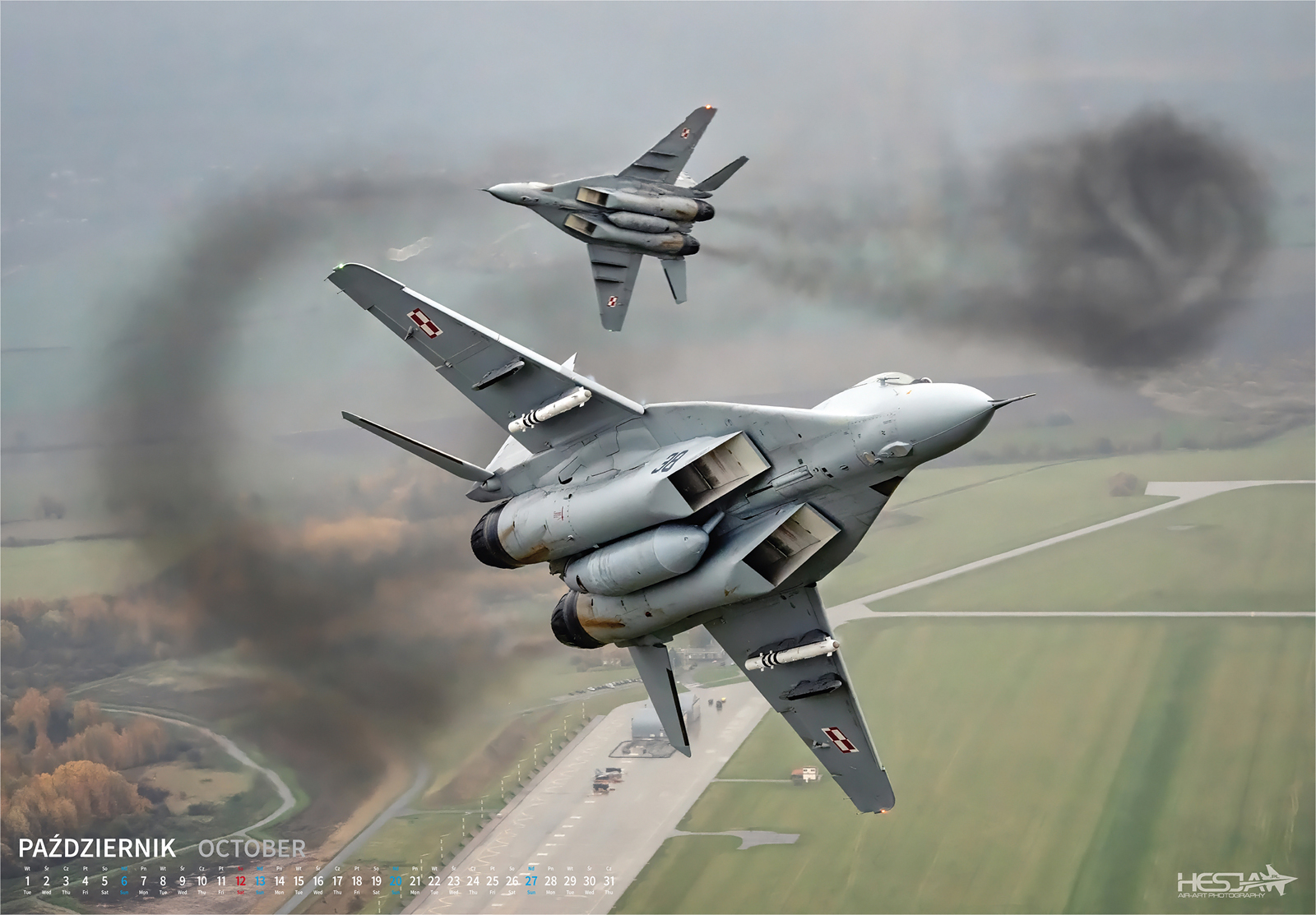 October 31st, 2023. Two Mikoyan Gurevich MiG-29 Fulcrum planes belonging to the 22nd Tactical Air Base in Malbork, photographed from the deck of the CASA C-295M plane from the 8th Airlift Base in Krakow while making a break over their Malbork nest.
Planning an air-to-air session at the turn of October and November in Poland is a great risk that the session will not take place due to unfavorable weather conditions. The fact that we managed to make two flights that day is only thanks to a few positive people and a lot of aviation luck. This photo received the most votes in my Facebook calendar poll! Thanks again for all of them. :)
Nikon D850. AF-S Nikkor 24-120 mm f/4G ED VR (1/800 f/6.3 ISO 1250).
More:
https://www.hesja.pl/galeria,948,f-35-mig-29-f-16-malbork.html
 
NOVEMBER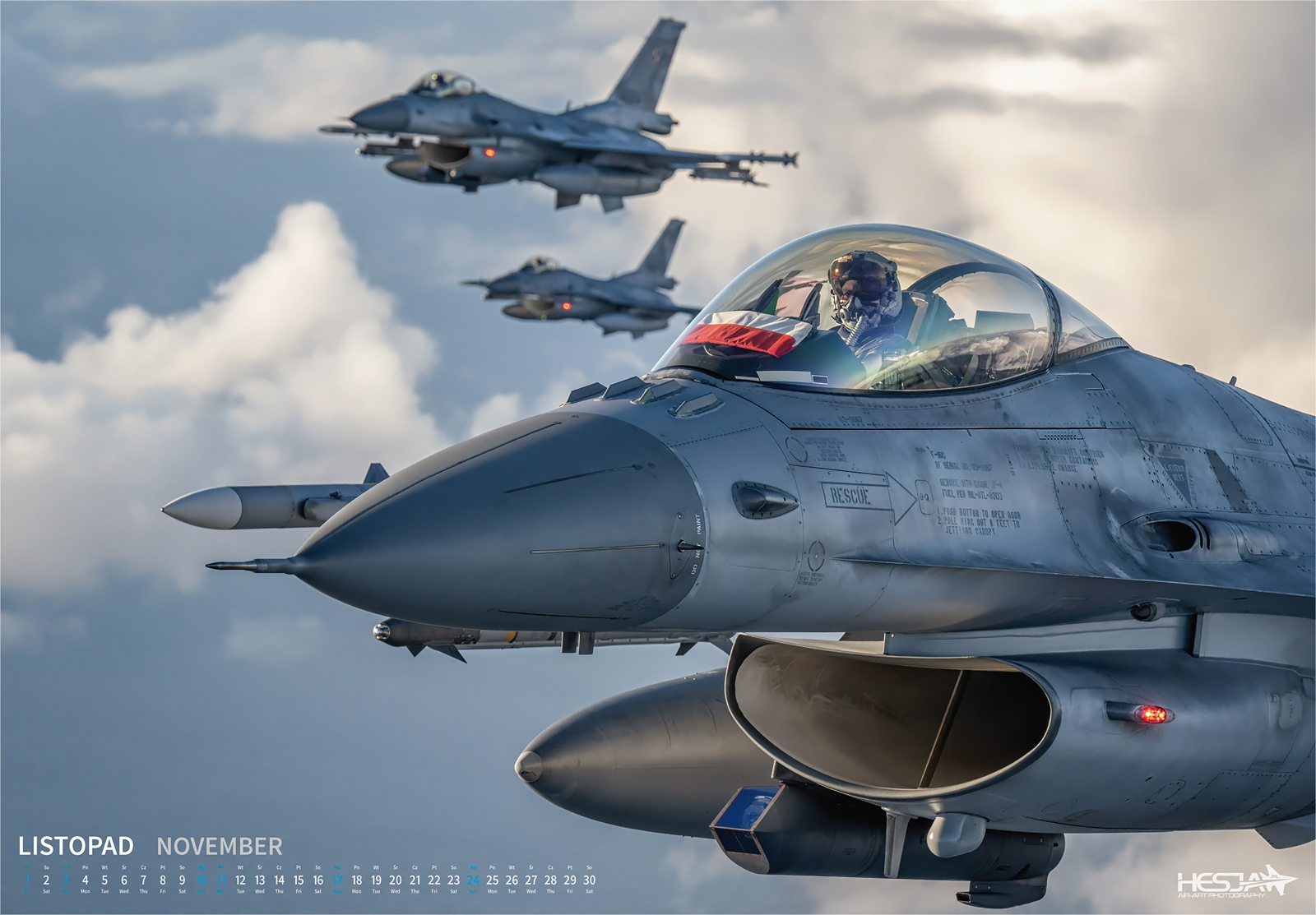 March 27th, 2023. Four (three in the photo) Polish Lockheed Martin F-16 Jastrząb aircraft from the 32nd Tactical Air Base in Łask during NATO Baltic Air Policing over Lithuania, photographed from the deck of the CASA C-295M aircraft from the 8th Airlift Base in Krakow.
The session took place at the end of the mission of the Polish Military Contingent ORLIK 11, which from October 1st, 2022 to March 31st, 2023, guarded the Baltic sky, operating from the Lithuanian Air Force Air Base in Šiauliai. From the very beginning, during the operation of PKW ORLIK 11, attempts were made to conduct an air-to-air session. The first two attempts failed due to firstly unfavorable weather conditions, and then due to the failure of the Spartan aircraft, which was supposed to act as a photoship. Only the third approach to the topic of the session brought the expected result. The session took place almost at the last possible time, because while it was being held at the base in Šiauliai, activities related to the takeover of NATO Baltic Air Policing by subsequent allies, i.e. Romania and Portugal, were already underway. Why this photo? I like them very much! Great Polish pilots, beautiful machines and a proud white and red flag are the perfect mix for Poland's Independence Day on November 11.
Nikon Z 9. Nikkor Z 100-400mm f/4.5-5.6 VR S (1/1250 f/7.1 ISO 800).
More:
https://www.hesja.pl/galeria,916,pkw-orlik-11-szawle.html
 
DECEMBER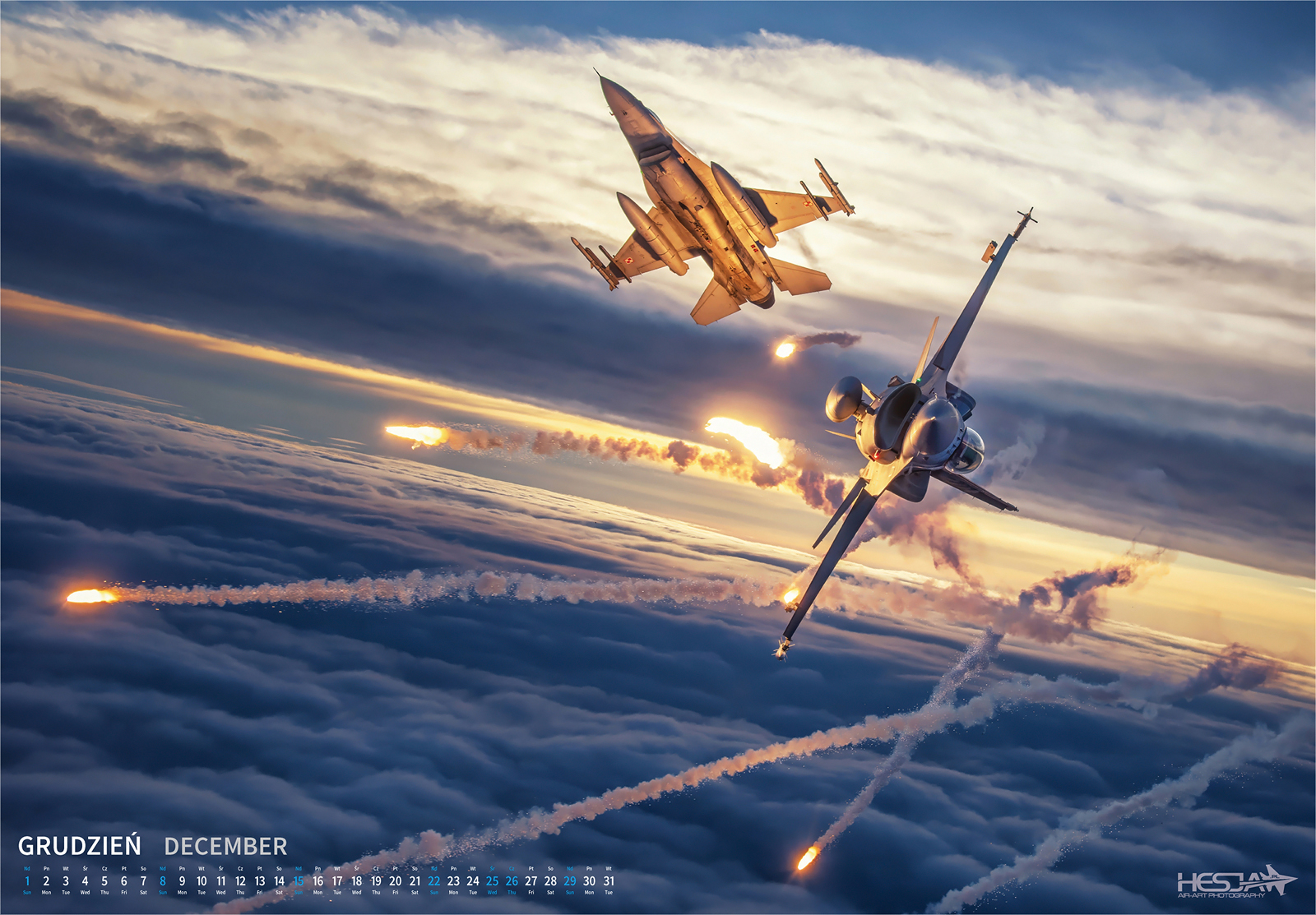 October 31st, 2023. A pair of Lockheed Martin F-16 Jastrząb aircraft from the 31st Tactical Air Base in Krzesiny photographed from the deck of the CASA C-295M aircraft from the 8th Airlift Base in Krakow during an impressive break with flares.
No one believed that we would take any photos that day in the morning. Our joy was even greater because of the success we achieved, because not only did we manage to complete two flights, but the conditions during the second one were absolutely brilliant! When we add our pilots' amazing flying and precise maneuvers using flares, it's no wonder we went crazy with happiness there high above the clouds! This undress was the final accent of the session and let this photo be the last photo in the calendar. Flare fireworks will harmonize beautifully with New Year's Eve fireworks at the end of 2024! :)
Nikon D850. AF-S Nikkor 24-120 mm f/4G ED VR (1/1000 f/6.3 ISO 100).
More:
https://www.hesja.pl/galeria,948,f-35-mig-29-f-16-malbork.html
 
Are you interested in purchasing my Aviation Calendar 2023?
I invite you to place an order :)
You can order it here / Zamówienia:
 
In English:
https://www.hesja.pl/en,sklep,23,aviation-calendar-2024.html
 
Polska:
https://www.hesja.pl/sklep,23,kalendarz-lotniczy-2024.html